Before we delve into any details, you should know that you'll often find questions about whether the Cecilio Mendini saxophones are comparable to "pro" ones.
In other words, you should know that this saxophone is, after all, a pocket-friendly choice, which means that it could be a good choice for a first horn, for band practice, or other situational instances that we'll go over in this article.
Cecilio
Let's start with the manufacturer. Cecilio is a Chinese-based musical instrument manufacturer that is known to produce affordable, entry-level instruments. Their instruments are quite popular among students for this reason, and the saxophones are no exception.
>> Check out Cecilio's musical instruments & Accessories <<
Mendini
Cecilio Mendini saxophones can easily be ordered online. They work very well with beginners, students, and people that play in bands. You can get a Mendini in the following keys/scales: soprano (Bb), alto (Eb), tenor (Bb). However, we'll focus on the alto in this review.
Mendini Alto Sax Review
If you're just trying out saxophones and you're not sure whether you'll be continuing a life-long journey of sax-playing, the Mendini alto would be an excellent place to start.
Although it's not a well-established name and is made in China, it still provides enough reliability in terms of sound quality and playability. This can be attributed to the fact that its intonation in mid-register tones is excellent, and that's the register that beginners usually play.
While it won't give you pro-level sound on its own, it could go a long way with the right accessories like a proper mouthpiece combined with one of the best alto sax reeds. Plus, the large bore it has makes it easy to get a full-bodied sound, even if you aren't a well-seasoned saxophonist.
And in all cases, weighing 10 pounds, it's easy to carry and therefore play. Mix that with the fast action keys, and you'll get why it's a very beginner-friendly option.
The Mendini alto comes in multiple colors, most popular of which is the gold lacquer body and keys. It's also equipped with leather pads, engravings on the bell for decoration, and contoured keys combined with faux mother-of-pearl inlays.
And despite the fact that it comes with plenty of accessories, they're not all of great quality. You'll probably need to change the neck strap and get one with a more solid clasp instead of the plastic one on the Mendini's.
Users Also Read: The Top 9 Alto Saxophones on The Market
What's Included in the Package?
A saxophone with a year's warranty
A metronome and chromatic tuner
Ebonite mouthpiece
Ligature
10 reeds (Size: 2.5)
Nylon-covered hard case with a zipper pocket and backpack straps
Cleaning swab
Neck strap
Polishing cloth
A pair of white gloves
Related: Buescher Aristocrat alto saxophone in-depth review
Pros
Highly affordable
Good for beginners
Lightweight and easy to handle
Even mid-register intonation
Cons
Only suits beginners
Not very durable
Not easy to fix or maintain
Final Verdict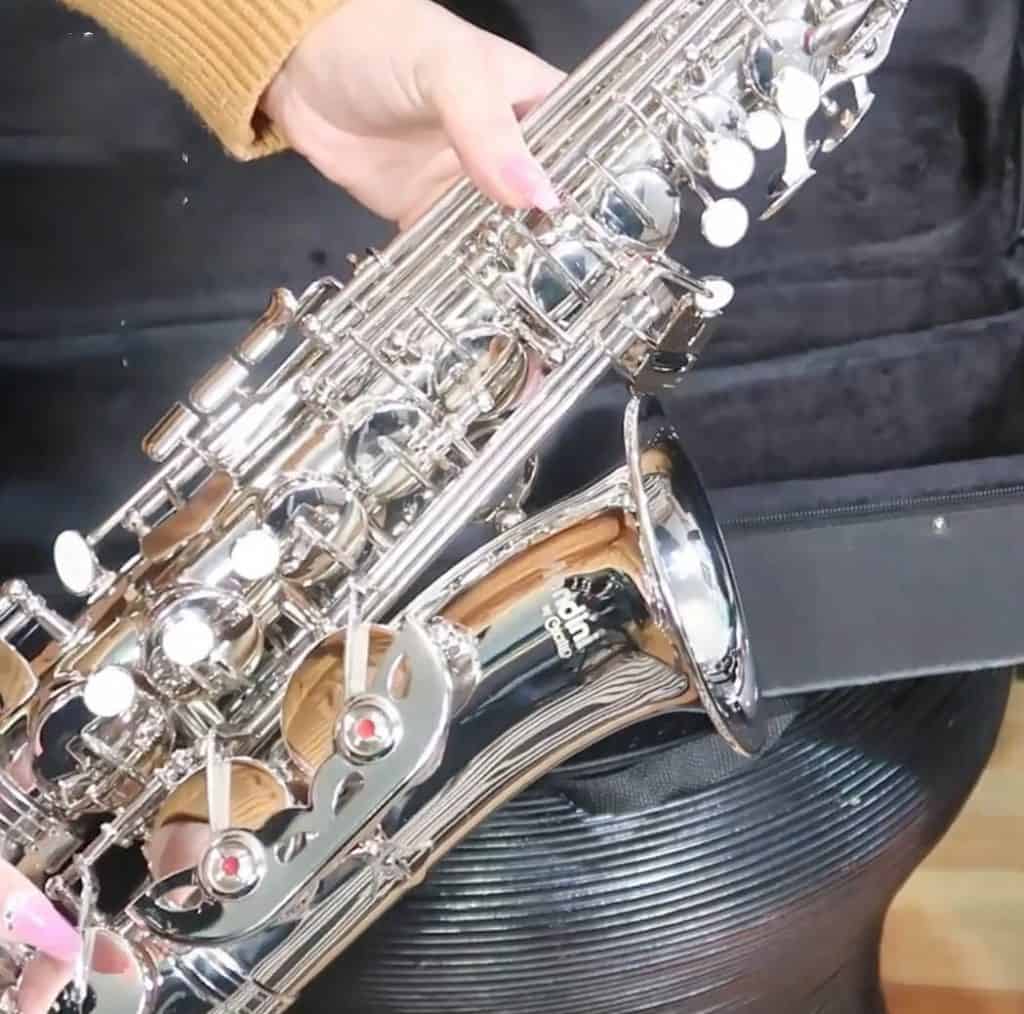 When all is said and done, the Cecilio Mendini alto sax would be a good option for someone who's starting out, and perhaps not planning to own it for long. Since it's a cheap horn, it won't last beyond a couple of years, so it's an optimal option for students that only want it for band activity.
It's one of the most affordable options, lightweight enough to be easily carried by a novice, that's getting familiar with horns, and works well with the beginner's most used register.
However, if you're planning to pursue a long-term saxophone journey, you might want to opt for other affordable but more sustainable options, like the Yamaha 290 series, for example. Even if they'll cost more, they'll have a good resale value that will get you a good deal if you decide to sell them second-hand.