If you're browsing the market and have gone through plenty of choices already that it's starting to frustrate you, you're going to make use of this guide for the best alto saxophones.
Whether you're looking to play some jazz, swing, chamber music, or you want the alto for a concert band, solo repertoire, marching band, or military band, this list will cover different models and inform you what each of them would be best for. Without further ado, let's delve into it.
Here's a quick summary of our top picks:
The 9 Best Alto Saxophones in 2021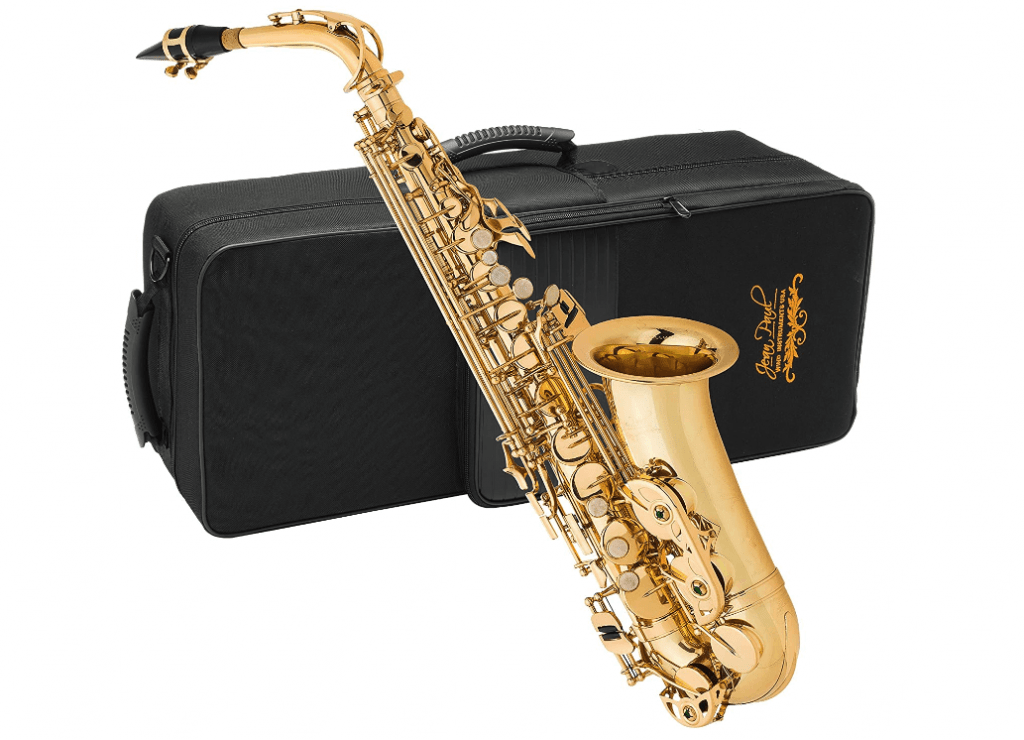 The Jean Paul USA AS-400 is a sax that combines flexibility for beginners, high-quality, and affordability. This student alto sax is a perfect choice for new saxophonists that want to experiment with the sax's many genres.
It comes with ergonomic keys that make it easy to handle and play, and a gold lacquer body that only adds to its diversity and flexibility of playing. At 16 pounds, it's not too hard to play for a long time, especially with the included adjustable neck strap that distributes its weight.
Up to 70% OFF Musical Instruments And Accessories on Amazon!
Holiday discounts are live on Amazon. Deals are ending in a couple of hours so hurry up!
And while it's not half the price of high-end, professional saxophones, its sound and construction are impressive enough to make it to the top of the list. It also comes with nice accessories like the strap and mouthpiece. Though if you want high quality ones, you might want to make an upgrade.
So, if you're looking for a beginner sax that you can play all the way to your intermediate-level playing and for many years, the Jean Paul USA AS-400 is a very viable choice.
What We Like
Reliable construction with a bell brace
Flexibility of playing
Warm tones
Incredibly affordable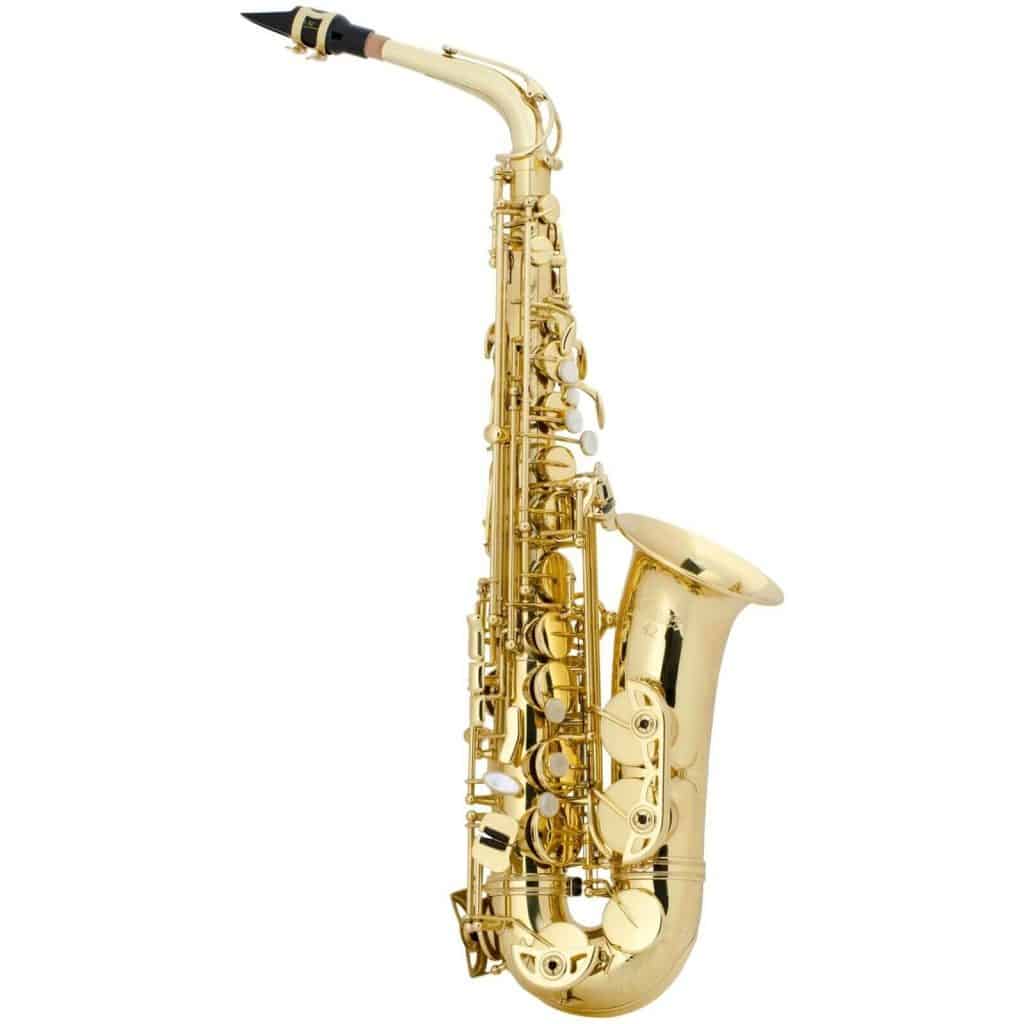 From the design, pretty engraving on the bell, and key-work, you can tell that the Selmer AS42 sax is an incredible addition to any saxophonist.
This sax comes with nice ergonomics and a solid build, with every key snapping into place with sleek action. Not to mention, the tone is just impressive. While it can be a little bright, it doesn't have a sharp edge to it. This is why it works well with altissimo notes but doesn't make them sound too high-pitched.
The bright tone to it makes it an excellent choice for rock, blues, pop, and jazz, but not so much for classical music. And though, like most Selmer saxophones, it can be a bit pricey, it's worth the money.
What We Like
Warm sound
Solid build
Unique black nickel finish
What We Don't Like
A bit on the heavy side
Doesn't blend well during ensembles
3. Yamaha YAS-280 – Best Alto Saxophone for Beginners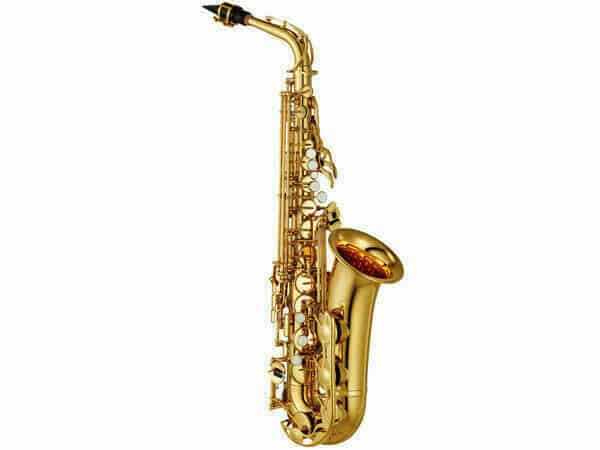 The Yamaha YAS-280 provides players an easy grip, valve presses for easier note transitions, and easy tuning at an affordable price and a lightweight design.
It's made of yellow brass and has a gold lacquer finish for flexibility, though it does come with a silver-plated lacquer if you're looking for brighter tones. The quality of its build makes it resist wear and tear, which is why it's super durable.
Finally, it comes with a case as well as high F# and front F auxiliary keys, which is quite neat for a beginner's, student sax.
What We Like
Comfortable to play
Precise notes
Comes with a case and high F# key
What We Don't Like
Pricey for a student alto sax
Not all items are tested, so some can come with finicky tabs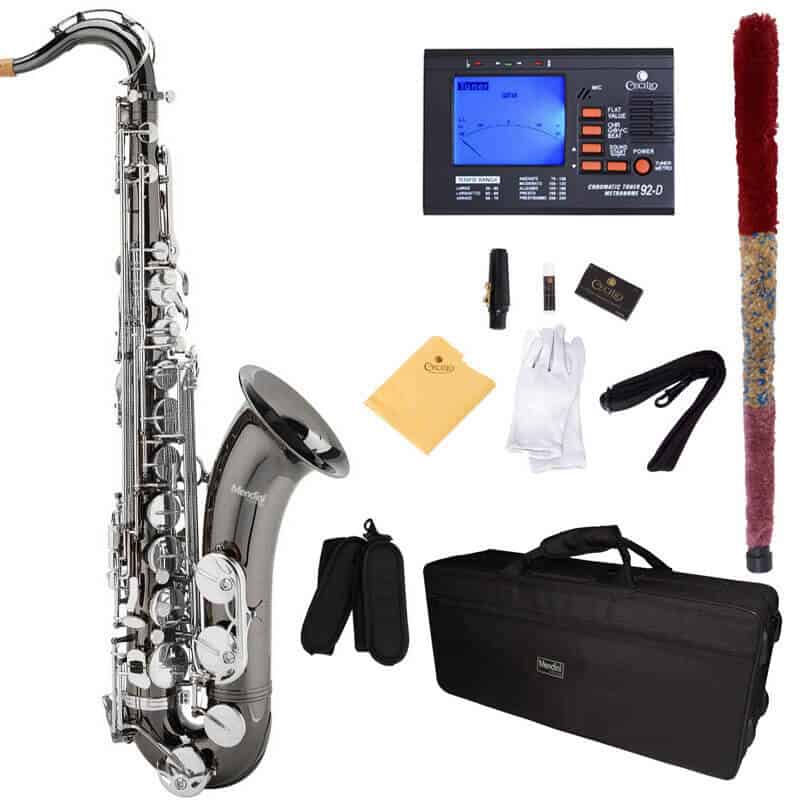 The Mendini By Cecilio MAS-L+92D+PB comes at a very low price, but it has a rich experience to offer. With all the accessories that come with it, including the case, tuner, mouthpiece, pocketbook, cloth, gloves, and ten reeds, you won't be missing anything.
Moreover, it comes with a gold lacquered body and a high F# key for a wider range. Also, its construction is quite solid with a large bore, ribbed keys, high-quality pads, and metal tone boosters. However, the contoured keys come with faux mother of pearl inlays, but you can't expect too much from a sax at this price point.
Now, despite not being so pricey in the first place, its resale value is relatively high, which makes it suitable if you're planning to upgrade in the future.
What We Like
Great sound quality
Easy to tune
Comes with plenty of accessories
Incredibly affordable
What We Don't Like
The sound is a bit too rich despite the tone boosters
Some of the materials are subpar
Related: Our Favorite Alto Saxophone Reeds for This Year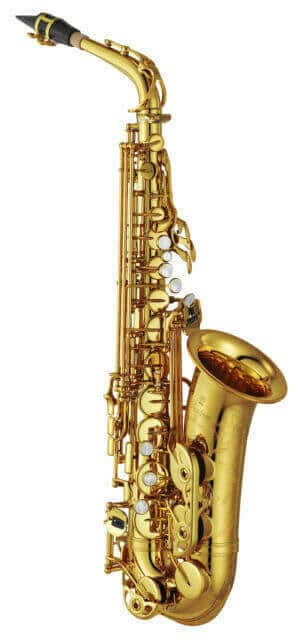 It's no surprise that Yamaha would make another appearance on the list, and the YAS-82ZII Custom Z is well worthy. It has a great response and expressive sound, and it provides you with good control over the instrument.
If you're a professional who needs fast action, you'll enjoy the improved low B to C# connection, lighter thumb hook, and bases for thumb-resting that pave the way for a consistent tone and improved response.
Moreover, it comes with a one-piece bell with engraving that makes it look stylish as well as enhances the low-end response of the sax. It also comes with domed metal resonators that deliver excellent response, wider dynamic range, and tonal color palette. Not to mention, the adjustable front F enables you to find the level of resistance that best suits you while playing the altissimo range.
What We Like
Industry-standard sound quality
High-quality build
Come with a slim, lightweight case
Enhanced B to C# connection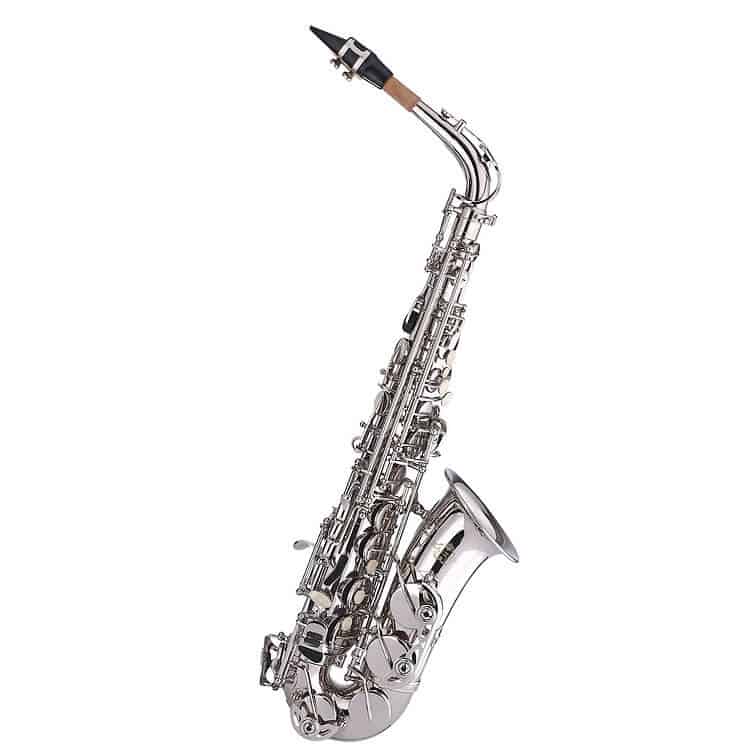 If you're looking for an instrument that you can experiment with the sax before making a purchase as it comes with a 45-day free trial. Its design works amazingly for orchestra players, students in a school band, and beginners.
To start, the Kaizer ASAX-1000NK comes with professional leatherette pads that give you all the control you need over the intonation. Not to mention, it delivers enhanced tonality thanks to the solid brass body, which is impressive for such a budget-friendly sax.
Finally, it comes with a carrying, high-quality travel case, a cleaning kit, mouthpiece and ligature set, and a lubricant for the mouthpiece.
What We Like
45-day free trial
Solid brass body makes it durable
Comes with plenty of accessories
What We Don't Like
Soft metal construction diminished the sound
7. Selmer La Voic ll – Best Professional Alto Saxophone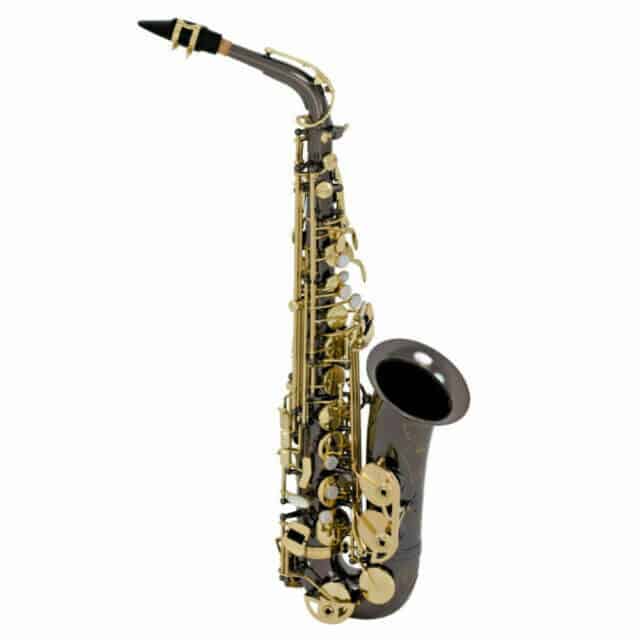 You didn't think you wouldn't find another Selmer sax on here, did you? Well, the La Voic II easily makes it to the list with its lightweight body of 14.5 pounds that allows you to enjoy its sweet sound for hours on end without getting out of tune or tiring you out.
The La Voic II has one of the best acoustic responses on the market, which makes it sound fluid throughout the registers. Combine that with the slight resistance that the neck has to offer, and you get the resistance needed for top-notch stream development.
Also, this sax comes with a Selmer USA mouthpiece that only adds to its steady intonation and excellent response.
What We Like
Lightweight design
Amazing tones
Provides a good amount of resistance
Excellent value for the money
8. Yamaha YAS-480 – Best Alto Sax for Classical Music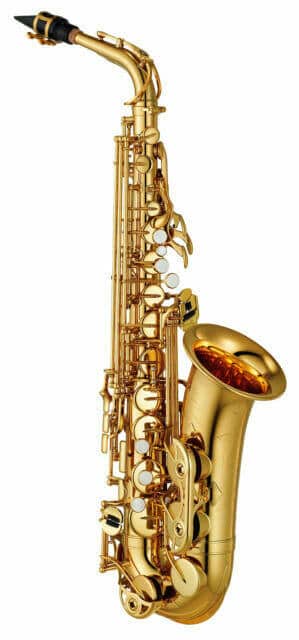 The Yamaha YAS-480 is a great alto sax for intermediate players that like to play classical pieces. Obviously, the enhanced 62-style neck plays a role in that as it gives it a mature tone, but it's still compatible with Custom Yamaha necks, which gives it great diversity.
The design is quite thought out, as it comes with a left-hand seesaw key that improves playability and increases comfort, while the keyguards are separate and have adjustable screw-cap stoppers. Of course, the Yamaha YAS-480 keeps the enhanced low B to C# mechanism that we've seen on the YAS-82ZII Custom Z.
To finish the design with an elegant look, there's a pattern on the bell that is hand-engraved, and the horn has a vibrant gold finish.
Looks, playability, a warm but mature tone, and very precise intonation, it's hard to see why any classic music player wouldn't get the YAS-480 if their budget allows them to do so.
What We Like
Compatibility with custom Yamaha necks
Comes with separate keyguards
Left-hand seesaw key
What We Don't Like
Not very affordable
The case is soft-padded instead of hard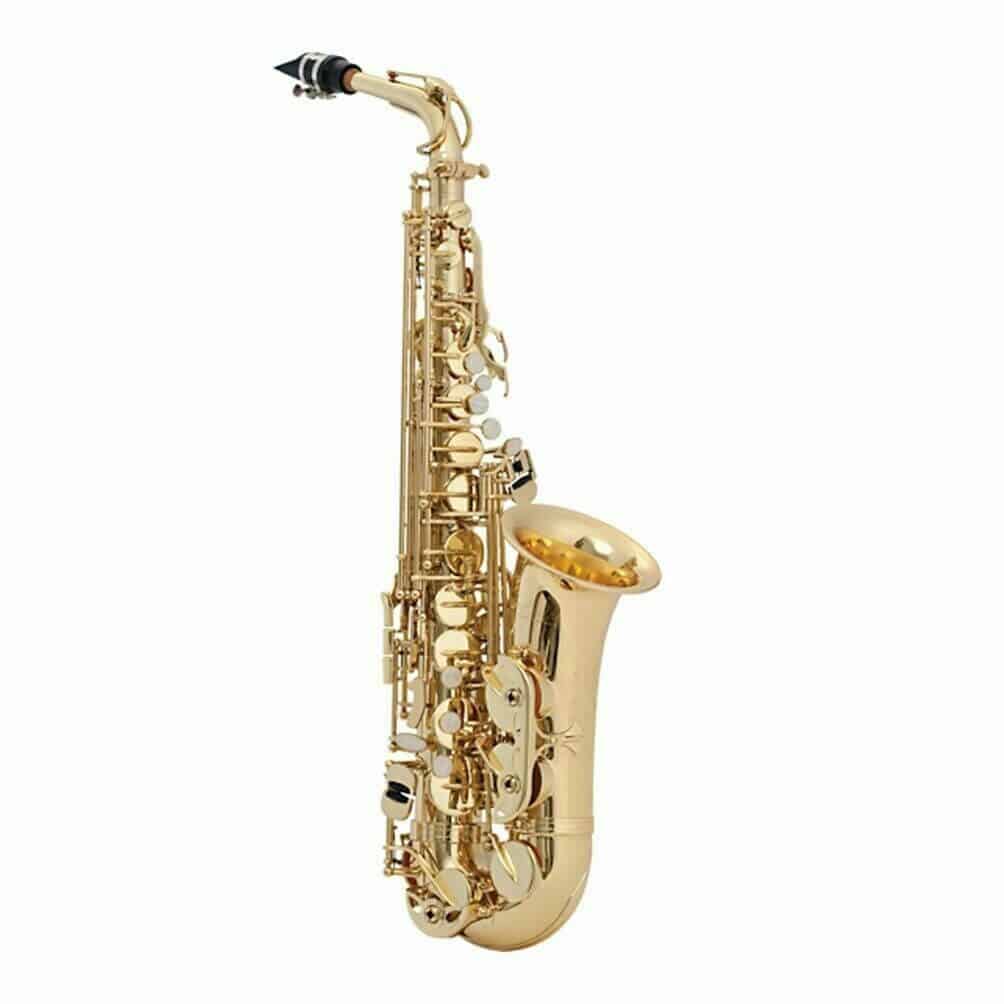 If you're a beginner that's looking for a durable model that will outlast your training and experimenting period, you should consider the Prelude AS711.
This sax is of high quality but affordable price, which is a combination nobody can resist. And while it's not as cheap as other student models we've mentioned on the list, its durability and construction of pure brass make it worth the extra money.
Its key design is quite ergonomic and allows you to hold it more comfortably with the appropriate hand position. Not to mention, the left-hand table key rocker comes with an adjustable C# screw, which makes way for even greater comfort while playing.
Finally, the sax comes with reeds, a strap, adjustable thumb rest, cork grease, a hard carrying case, and a molded mouthpiece with a ligature. There's also a 30-day return policy and a money-back guarantee.
What We Like
Affordable price
Durable
Easy to play
Ribbed construction for rigidity
Comes with multiple pieces of accessories
Adjustable C# screw
What We Don't Like
Tone isn't consistent across all registers
Basic mouthpiece that may need upgrading
How to Choose a Saxophone?
When you're browsing through the various alto saxophones on the market, there are a couple of things that you should keep in mind in order to pick out the best alto saxophone for your needs, and here's a list to keep in mind.
Size of the Tip Opening
The size of the tip is what controls how much air -and therefore effort- is needed to create a sound. Generally, a smaller tip opening requires less air, while big ones require more.
How does this affect the sound? A bigger opening that needs more air would sound deeper and warmer and also would give the saxophonist more control over some playing techniques, like bending notes.
On the other hand, smaller openings are much easier to play, though they don't allow that much control on the player's end. This is why they're more recommended for beginners and novices, while bigger tip sizes are recommended for the more seasoned saxophonists.
Still, there's some conflict regarding this issue, as a big tip opening with a soft reed might feel easier to play for some than a smaller opening with a tougher reed. Which brings us to the next point…
Size of the Chamber
While the opening affects the volume of air, the chamber affects the speed at which it flows through the horn's body.
A smaller chamber would make the airflow faster, which gives you a cut-through sound with more projecting. On the other hand, bigger chambers slow down the flow of air, which results in a sound that's more mellow.
So, to break it down, if you're going to play for a band with tones that tend to funk or rock, a small chamber would serve you better. Alternatively, for classical music or jazz players, a bigger chamber, which would help them get a rounder sound.
Baffle
The baffle is the mouthpiece chamber's roof and can either be sloped or straight. Older horns all come with a straight baffle that suits classical music, which was the only type of music in which horns were used up until the '30s.
This straight baffle makes for a larger opening, which again allows for a slower pace of airflow, giving the horn a mellower sound.
On the other hand, smaller openings made with sloped baffles quicken the airflow, making the sound brighter.
Reeds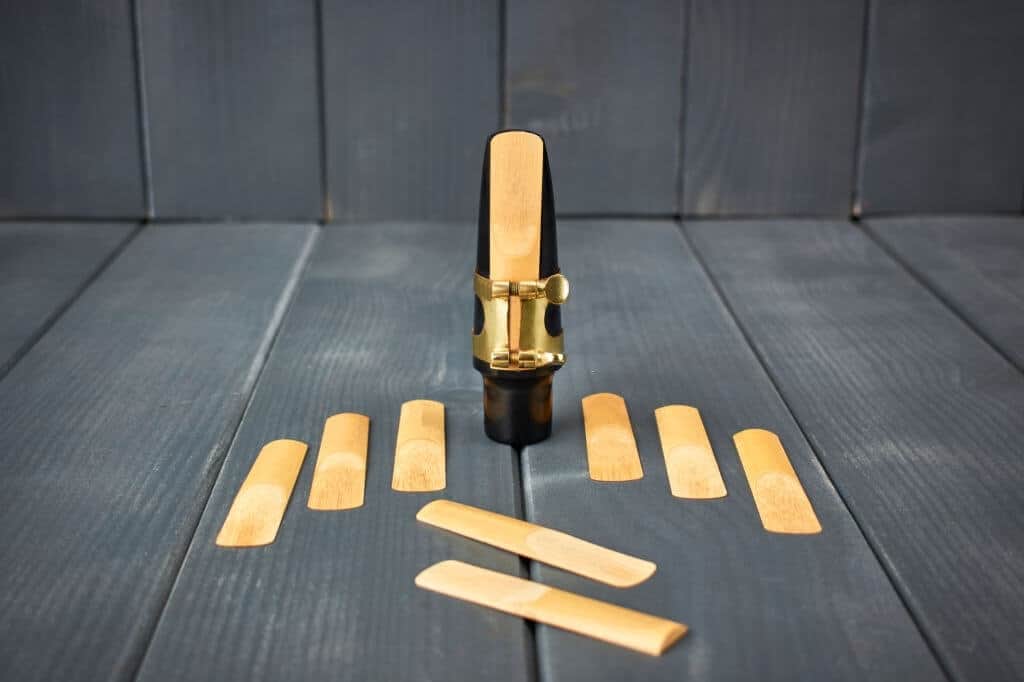 Generally speaking, you shouldn't be sweating over, as most saxophones come with plenty of them, and they're interchangeable. And on that note, let's say you'll be replacing them a lot as the average lifespan ranges from a week to a couple of months.
Reeds can be soft or hard. Soft reeds are usually recommended for beginners as they don't require as much effort to play and are easier to get a grip on. They're known for their bright sound and myriad harmonics.
The other option would be a hard reed, which evidently requires some more effort to play and is associated with deeper, more mellow sounds.
Student vs. Professional Sax
The typical point of comparison between one sax and the next is whether it's aimed at professional players or if it could suit novices and beginners as well.
A student sax is obviously a better choice for beginners that are only experimenting with horns, as they come at much more affordable prices and are generally made to be more easily handled with a beginner in mind.
On the other hand, professional horns come with denser materials, larger neck bores, and ribbed construction that attaches the keys to the ribs instead of directly to the body of the saxophone.
This makes professional horns a little heavier, more rigid, durable, and of course, sound much crisper.
Keys
While high G-key and low A-key are unique to the soprano and baritone saxophones, respectively, the high F-sharp key could be found on an alto. Intermediate and professional horns come with the high F-key as a standard, which is why their range is extended to a note higher.
And while it extends the range, it's not very necessary if you're not playing professionally, and that's why student horns that come without it are just fine.
Lacquer Types
Gold: Gold is the most common of the lacquer finishes on horns. It's great for what response and tone flexibility it has to offer, which is why it makes a horn appropriate for solos, classical, or jazz music, as well as blending in with other instruments in an ensemble.
Silver Plating: A silver plating gives the tone of a sax a brighter feel, and that's why it's a very viable choice for jazz players. Just how bright the tone comes out can be controlled through the mouthpiece, which means you still can get a bit of a darker sound if you'd like to.
Black Lacquer: Black lacquer gives the horn a heavier and darker finish that makes natural tones a little moodier. Of course, it also provides a very sleek look, which makes it quite aesthetically pleasing.
Lacquer-free: The most free of vibrations would come from a lacquer-free saxophone, which provides better projection. Moreover, lacquer-free finishes allow you to blend in smoothly with other musicians if you're playing in ensembles.
Other Types of Finishes: There are plenty of other lacquer options, including nickel-plating in dark vintage lacquers, matte, black, or silver. Since they're rather unique, you should give the horn a try if you're going to opt for these finishes to make sure it gives you the sound that you're aiming for.
Mouthpiece
The mouthpiece's shape is yet another factor that affects the sound of a saxophone. Look into the differences between round and square chambers found on the inside of the mouthpiece, and just how big or small the space between the reed and the mouthpiece rials are.
Mouthpieces are interchangeable though, which is why it's not a fork in the road. You can carry multiple ones to suit various setting needs..
Ligature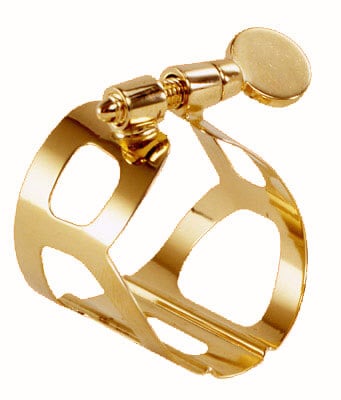 The ligature is what keeps the reed in place against the mouthpiece. New saxophones come with a stock option, but you should know that the tightness and the material of the ligature have an impact on the vibrations of the reed against the mouthpiece, and consequently, the sound that the sax makes.
Look into the various designs like double screws, single, or inverted ligatures as well as the different materials such as string, leather, or different types of metals.
Neck Strap and Accessories
Last but not least, the neck strap and accessories on a saxophone will definitely affect the playing experience, but aren't an essential part of the shopping process.
A neck strap helps the player maintain a proper position while they play their instrument, and also makes it easier to optimize hand movements as it distributes the weight more evenly around the neck. And while many horns come with stock neck straps, there's always room for upgrading.
Some of the more high-end choices come with padding and adjustment mechanisms to accommodate whatever the player feels most comfortable with. It's worth mentioning that neck straps could be a more important factor with bigger horns such as baritone or bass saxophones.
Best Alto Saxophone Brands
Selmer Paris
Selmer Paris is perhaps the most popular brand among high-end, professional-grade saxophones. They're quite niche that they don't even make student saxophones, and that's why you're bound to spend a handsome amount of money when you're shopping from Selmer Paris. We're talking at an average of $5K or $6K and higher.
Bear in mind that there are two variants of the Selmer brand, the French one that has all the parts handcrafted in Paris, and the American that sells high-end saxophones made in Chinese and Taiwan.
Yamaha
Yamaha is a well-established brand in the world of musical instruments and that's largely because of how detail-oriented they are. And the fact that there are many options for various experience levels and budgets is why there were as many as three options on the list.
Allora
Allora is an excellent choice for beginners or sax players who have some budget constraints. They have great step-up and intermediate alto saxophones, and they definitely give you incredible price for the money with every horn.
Mendini By Cecilio
Another viable budget-friendly option brand that offers very diverse horns is Mendini by Cecilio. The best part is that they have saxophones for all experience levels, from beginners to expert or concert level horns, all within pocket-friendly prices.
With good reputation across the board, global sales, and instruments that come with a whole package of accessories, they're definitely a bang for the buck.
Conn-Selmer
At first glance, you might think that this brand is related to "Conn" or "Selmer," the popular musical instrument brands, but it's not. However, it's worth mentioning that Conn-Selmer is a distributor of Selmer Paris products in the U.S.
Conn-Selmer was able to establish itself as a big name in the world of saxophones thanks to its horns that suit budget-conscious pros as well as intermediate or advancing students.
Yanagisawa
Yanagisawa emerged after World War II and has been making saxophones since. With good craftsmanship and horns that have a modern design combined with great performance, it's no surprise that Yanagisawa has become a very respected brand for sax manufacturing.
P. Mauriat
P. Mauriat is yet another French brand that produces saxophones. But what sets them apart is that they make modern vintage horns. What does that mean? It means that the construction is handcrafted like a vintage sax, but the sound is more modern while the horn is more responsive and ergonomic -a killer combination for prices that don't break the bank.
FAQs
Why Do Some Saxophonists Prefer Softer Reeds?
As above mentioned, softer reeds give players an easier playing experience. But there's a hidden advantage that even well-versed saxophonists can benefit from, which is their flexibility that allows you to control the sharpness or flatness of the tone according to your preference.
Why Do All The Notes I Play Sound Flat or Sharp?
If you're facing this issue, it could be a strong indicator that your mouthpiece is positioned inappropriately or incorrectly.
Conclusion
Now that we've gone over the best alto saxophone choices together, I hope you've made a decision or narrowed down your shortlist. If you need a quick recap, here's a cheat sheet.
If you're looking for a bang for your buck from a student alto sax with a solid construction and warm tones, the Jean Paul USA AS-400 would make a great choice for you.
But if you want something more professional and you're more of a lone-wolf that enjoys solo playing, the Selmer AS42 would be the better option. Despite being a little on the heavy side, its unique looks and solid build make it one of the best alto saxophones out there.
A complete beginner, however, would be better off with the Yamaha YAS-280. It feels comfortable to play, hits the notes with high accuracy, and comes with its own carrying case. However, it's not the most affordable student sax out there, so if you're looking for something more pocket-friendly, you might want to skip to the next one.
The Mendini by Cecilio MAS-L is the budget pick on our list, and it's the most value you'll get out of a sub-500-dollar sax. Its sound quality is great, it's easy to tune, and it comes with all the accessories that a novice might not know they're going to need.