The Selmer Bundy II is one of those instruments that could give you professional-grade sound at an affordable price if you can fully service it. And while some people might say that you should simply save some more and opt for a newer model, some of us want a solid instrument at an affordable price.
In that sense, the Selmer Bundy II sax is a great pick as you can pick it up at under $500, or even under $200 at some pawn shops or online.
And though it's a vintage piece, it can work well with modern music, as long as you have the right skills and mouthpiece. So, is investing in a Bundy II a good choice? Let's break it down.
Selmer Bundy II Alto Sax Review
In brief, the Selmer Bundy II is the ideal mix between affordability and playability. While it doesn't play like a top-notch professional or high-end horn, its sound is still full and warm. And if you're a thrifty shopper, you can get it at less than $200.
Here's everything you need to know about the Bundy II.
Build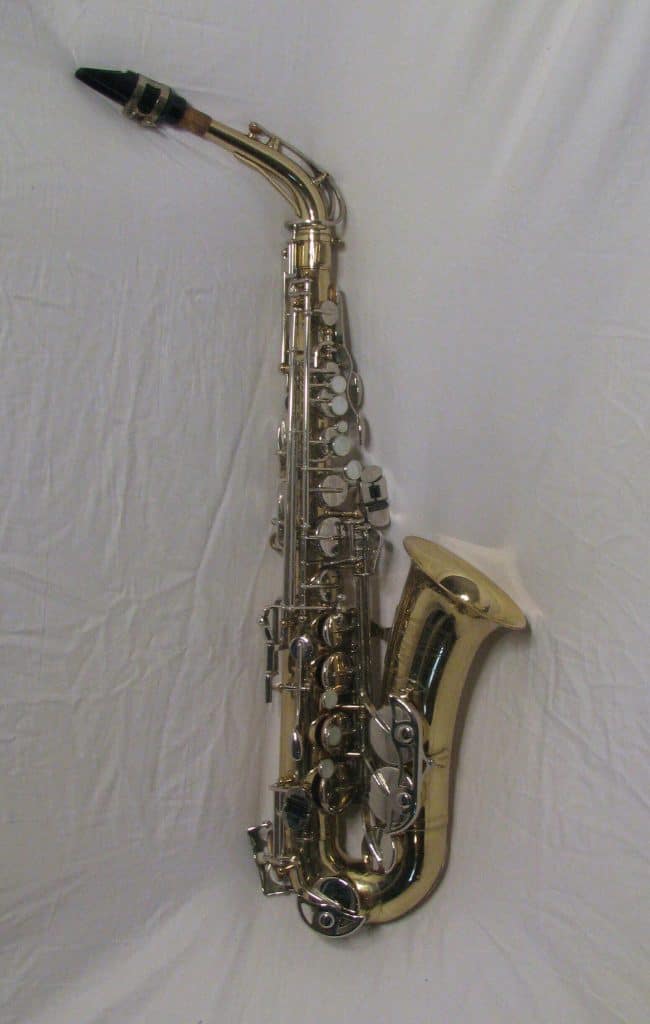 The Selmer Bundy II comes with brass and nickel body construction, which is the common mix. It does, however, come with impressively tough lacquer that extends its lifespan.
And despite having been around for quite a while, the vast majority of models don't seem to suffer from major dents, except for some scratches here and there, which is nothing of a deal-breaker, if you ask me.
Up to 70% OFF Musical Instruments on Amazon!
Holiday deals are live on Amazon. Deals are ending in a couple of hours. Happy shopping!
Moreover, the neck is quite a beast with solid bracing that makes it practically impossible to pull down. No wonder the Selmer Bundy II saxophones are so popular among college students.
I have to mention that the finish wasn't a piece of work, as the assembly quality is subpar with plenty of sharp edges. And if you're going to move it around, you might want to invest in another case than the one with which it comes.
Related Reviews:
– In-depth Mendini Alto Saxophone Review
– The Top 9 Alto Saxophones out there
– Seles Axos Alto Sax Review
Sound
If you want to hit some basic tones, the Bundy II would do that just perfectly. However, it does lack some richness and doesn't exactly capture the smooth vintage sound either.
One of its most notable advantages is that it stays in tune and, despite being noticeably sharper at the top end, plays the range of tones consistently. At least, the range that it is capable of playing, as you can't expect incredible versatility from it, judging by the fact that you can't get a high F#. But that's typical of vintage saxophones, so in context, it doesn't underperform.
Keys and Handling
Although it's not impossible to grip, the ergonomics on the Bundy II aren't the best. With low palm keys, an awkwardly-placed G# key, as well as a thumb hook and left thumb button that aren't so easy to press due to their tiny size, it needs some getting used to.
Also, the higher D key doesn't protrude enough, so you might need to make a bit of an effort to reach it and push in. At around 10 pounds, it's not the lightest of the bunch, but still portable enough to carry around from one place to another.
Pros
Does incredibly well with basic tones
Tough and durable lacquer
Consistent tones and stays in tune
Rugged build
Its neck comes with a solid brace
Cons
Subpar ergonomics
Doesn't sound good with the high F#
The finish isn't the best
Frequently Asked Questions
Should I Get the Bundy I or the Bundy II?
Both Bundy saxophones are good options and serve quite the same purposes. The Bundy I is claimed to have a better sound than the Bundy II. However, its used models come at a higher price than the used Bundy II models.
Also, its key placement isn't as awkward as the Bundy II's, so it's more intuitive and doesn't require any time on your end to get used to it.
Users Also Read: Jean Paul USA AS-400 Student Alto Saxophone Review
What's the French Versus American Deal?
Originally, the Selmer saxophones come from France, but there are manufacturers in Asia and America.
Plenty of saxophone players say that the French Selmers have warmer tones, while the American ones give you a crisper, brighter sound. That's why a classical artist would prefer the French variety, while a jazz player would prefer the American one.
The bad news is that there are no French Bundy saxes anyway, so if you're looking for a French Selmer, you should be considering other models.
Verdict
The Selmer Bundy II is a great alto saxophone for intermediate players that want something durable to endure a couple of years but aren't looking for flawless tunes meant for professional playing.
But generally speaking, with proper servicing, overhauling, adjustment, and a metal mouthpiece you can get fantastic sound from this vintage instrument that compares to professional jazz sounds.
I wouldn't recommend it to someone that's just starting out and trying to experiment with a sax. If you're at that point of sax-playing, you might want to try your luck out with something that's a little more affordable. If you're a pro, you might not like the fact that the range is lacking and that the finish and sound don't compare to high-end options.
It's the best choice for an intermediate player that's enthusiastic about playing the sax but doesn't want to spend a fortune on the latest models. As the case is with plenty of Selmer saxophones, this one is an excellent choice for a dedicated college student.