If you're looking for high pitch saxophones, you might as well just look for soprano saxophones, as these are the ones with the highest pitches. Whether you're on an endeavor to replicate Charlie Parker's masterpieces or embark on your own solos, a high-pitch, soprano sax is bound to serve you well.
In this guide, I'll recommend some of the best high pitch saxophones, tell you how each would be a good suit for you, and explain how you can choose if you're unsure. And if you want to learn more about pitches, tones, and the inner workings of a sax, go ahead and check out the FAQs section.
Here's a summary of our top picks:
| Image | Product | Details | Price |
| --- | --- | --- | --- |
| | Yamaha YSS-475II Soprano Saxophone | Best Overall | Check Price |
| | Allora Vienna Series AASS-502 | Runner-Up | Check Price |
| | ammoon Soprano Saxophone ammoonI1935 | Best Bundle | Check Price |
| | Yamaha Custom YSS-82Z | Professional Soprano Sax | Check Price |
The 4 Best High Pitch Saxophones for 2021
The Yamaha YSS-475II is a pretty solid choice for a novice saxophonist that wants to start on a high-quality horn.
Due to its straight design, the positions of the keys may seem a little awkward and need a little getting used to. Still, the keys are light and ergonomic, which makes the horn easy to play and get a grip on.
Also, there's an adjustable thumb rest to give you maximum comfort while playing and a custom style Bb spatula, which helps players to achieve correct finger technique.
It's worth mentioning that the straight design makes the YSS-475II's intonation top-notch and enhances the airflow. On top of that, the tone is further improved thanks to the bullet point pivot screws.
Finally, the gold lacquer gives it a nice finish, while the laser engraving on it gives it a stylish and professional look.
Things We Like
Highly responsive, which makes it great for beginners
Top-notch intonation for consistent sound
Easy to get a grip on
Things We Don't Like
Resistance is quite low, so it's not ideal for pros
Doesn't suit softer and darker notes
Must Read: The Extensive Selmer La Voix II Alto Sax Review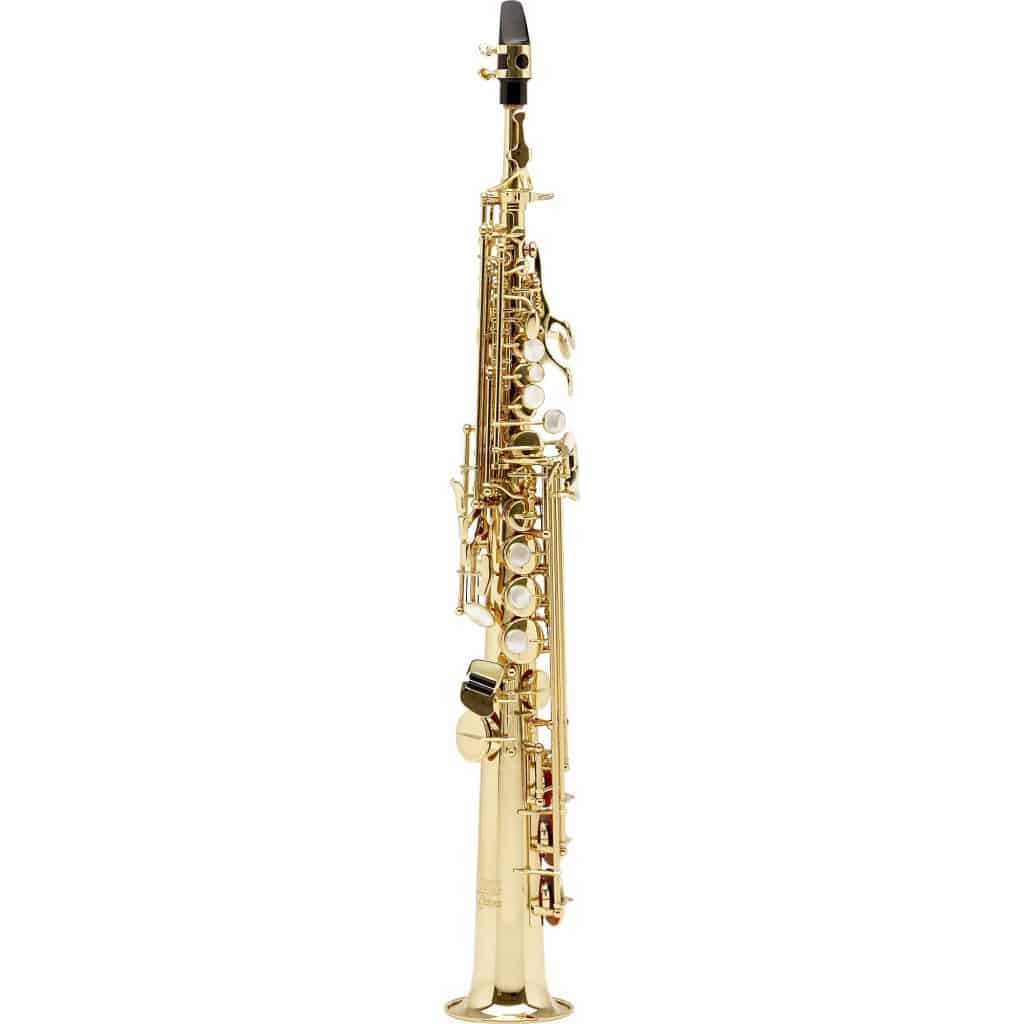 From the first glance, you can tell that the Allora Vienna AASS-502 is a high-quality horn as it comes with a gig bag, cap, ligature, mouthpiece, and products for maintenance.
If you're on a budget but still want a high-quality horn, the AASS-502 will serve you well. Its lacquered parts, including the body, bell, neck, and keys, give it an attractive look and make it durable.
Moreover, the ribbed design adds some rigidity to make it more durable and sturdy but doesn't add too much weight to obstruct playability.
The fact that it comes with two necks, a straight and a curved one, means that you can benefit from a direct sound coming from the straight neck or enjoy darker notes from the curved one.
So, if you're an intermediate player looking for a soprano set and a horn that gives you perfectly warm middle and lower octave notes, the Allora Vienna Series AASS-502 is a very viable choice.
Things We Like
Solid build
Middle and lower octaves have a warm tone
Comes with two necks
High F# is perfect for solos
Floral engravings give it an elegant look
Things We Don't Like
The case is soft instead of hard, which doesn't provide as much protection
Related: Selmer Bundy II Alto Sax Review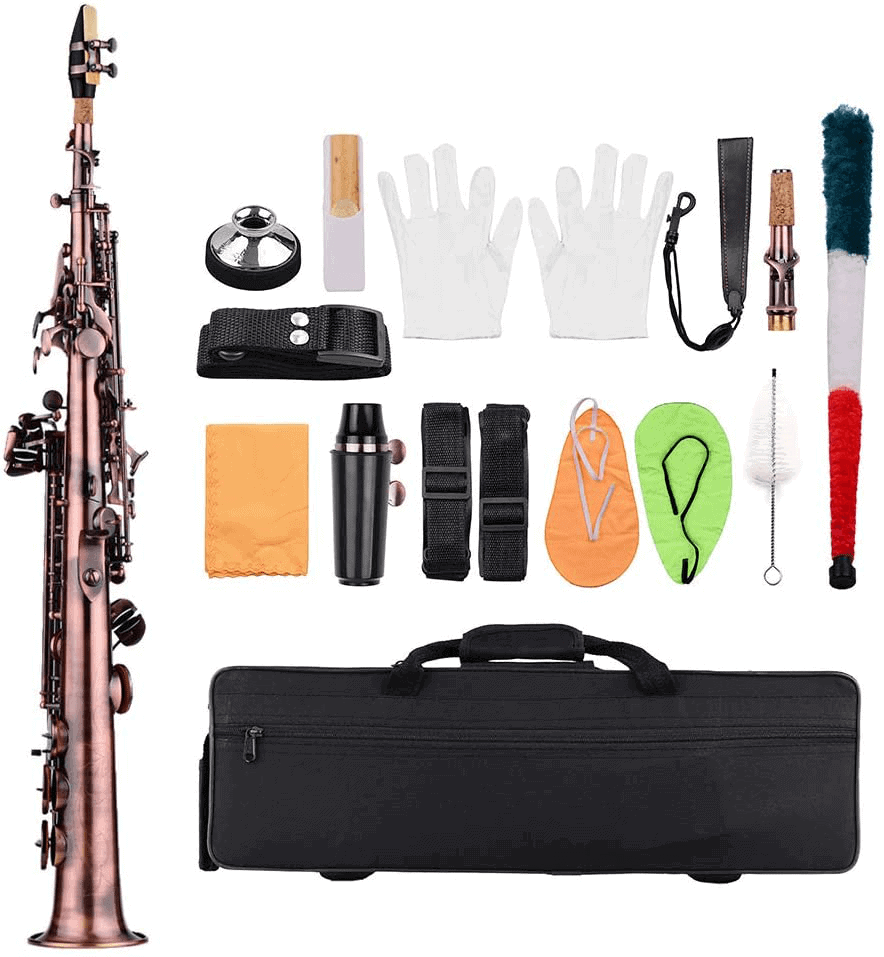 This soprano sax bundle is definitely a bang for your buck. This one is the most affordable choice on the list, but it has so much to offer!
Firstly, it comes with a hard case, which provides it with plenty of protection when you move it around. Secondly, it comes with a whole bunch of accessories, including two case belts, a pair of gloves, a brush, a cleaning rod, and three cleaning cloths.
It also comes with a neck strap for flexible handling, a sordine, ten reeds, a mouthpiece with its cap, and two sax necks.
This sax integrates abalone shells in its key inlays design, which makes it very comfortable to hold and play, even for entry-level saxophonists.
And while getting a firm grip, you'll need to put some pressure on the octave pip, it's not such an unfair trade-off for all the convenience it offers.
Things We Like
Hard, protective case
Plenty of accessories included
Durable and waterproof
Things We Don't Like
Might require some pressure on the octave pip for a firmer grip

If you're looking for a professional-grade sax and don't mind paying a professional-grade price, the Yamaha Custom YSS-82Z is an excellent choice for you.
This is perhaps one of the very few exceptions that come with a model that's a one-piece body but isn't fully straight. The little curvature makes its handling a little more convenient and provides quicker feedback. But whichever you choose, straight or curved neck, you'll be getting top-notch performance.
Moreover, the lower vent tube works on reducing noise, while the key post rib plate gives its sound more resonance and gives it a more solid feel.
Still, the keys come with a new design that makes them comfortable and ergonomic, while the adjustable pivot screw enhances the tone.
Finally, to add style and beauty to the looks of this horn, the Yamaha Custom YSS-82Z comes with hand engravings on the bell.
Things We Like
Quite pricey
Ergonomic keys
Comes with a thumb rest
Things We Don't Like
Doesn't include enough reeds
How to Choose a Saxophone?
When you're out shopping for a saxophone, there are a couple of things that you should bear in mind in order to get the best one within your budget. In this section, I'll tell you just which features you should be on the lookout for.
The F#
While many saxophonists might not view the F# key as essential, but it is known as a high key, and it's definitely a huge plus when it comes to playing high pitch sounds.
And while this is not a deal-breaker when it comes to picking a saxophone, or even a soprano sax, it will probably make a difference if you're getting your soprano to play higher pitches and sharper tones.
Related: Top-Rated Alto Sax Reeds on The Market Now
The Brand's Reputation
The brand of your sax will have a noticeable impact on how good it sounds, so you might want to get one from a reputable brand.
You can gauge that from the number of years that the brand has been manufacturing saxophones, the general feedback on the brand, the material and design of their horns, whether they offer a warranty, and whether the horn comes with a case or not.
You can check the next section if you're wondering which brands are the best saxophone manufacturers.
Design
You should opt for a sax that has a strong brass alloy build and keys that are ergonomically placed in order to help you play more easily and smoothly.
Moreover, look for a horn with leveling screws, a good overall finish and lacquer. It's also important to pay attention to the tone that the brand is known for in order to match the kind of music you intend to play on your horn.
Weight
Once you've shortlisted the possible choices, you can begin comparing them by weight. You're probably going to be practicing and playing your sax for hours on end, and that's why you want to opt for a lightweight model. Most probably, the lightest from the ones you've shortlisted.
Best Saxophone Brands
A saxophone from a reputable brand and a manufacturer with a reliable and trustworthy history is bound to beat a cheaper option. So, here are the best options on the market.
Yamaha
One of the most popular instrument manufacturers is Yamaha. Not only do they manufacture saxophones, but they also make amps, speakers, and other sound equipment.
The best thing about Yamaha is that they offer a wide range of options that suit various budgets, genres, styles, and levels of experience.
And while they're not the cheapest option, the instruments are of high quality and are commended for their ability to last for years with proper maintenance.
Selmer
This French company may have relatively high price tags, but their instruments are definitely worth it.
Not only do they lead in competition but also in research and development. Their passion for music drives them to make plenty of models using new materials, technology, and upgrades.
It's worth mentioning that you can find soprano Selmer saxophones at a sub $1,000 price tag.
Mendini by Cecilio
If you're looking into the affordable end of reliable instruments, you're bound to stumble upon Mendini by Cecilio.

They offer instruments for plenty of player levels, from beginners and all the way to expert and concert level horns, at a price that doesn't break the bank.
FAQs
Why Are Sopranos More High-pitched Than Altos, Tenors, and Baritones?
The reason that sopranos are the ideal choice for high-pitched pieces is that the smaller the volume of space there is for the air to vibrate in a sax, the quicker the vibrations, and therefore, the higher the pitch. And being the smallest of the bunch, the soprano is the type you want to opt for if you want high-pitched sound.
What's the Difference Between Curved and Straight Horns?
Apart from the aesthetics and looks, the main difference is that with a curved saxophone, a player would get immediate feedback as the curvature brings the sound back to them, though you do lose some brightness and stability. On the other hand, a straight sax would have better intonation as there's no bend in the tube.
Conclusion: Our Favorite High Pitch Saxophone
Generally speaking, any soprano sax would be a good choice for high-pitched music, but the one that hits all the right keys is the Yamaha YSS-475II.
It's easy enough for novice players to handle, but its sound quality makes it a favorite for intermediate and pros as well. Most notably, its intonation and consistent sound are why any saxophonist would absolutely love it.
And though it doesn't come at a very pocket-friendly price, Yamahas are known for their durability and quality, so you'll be making a long-term investment with this one.